Address
Vac Doctors
17 Gramwell
Shenley Church End
Milton Keynes
MK5 6DE
Proprietor: A Tyler
Enquiries
Machine servicing, repairs and sales:
Tel : 01908 504213
Mob: 07979 710991
Opening Times:
Mon - Fri 08.30 - 17.00 By Appointment Only
Sat 09.00 - 12.30 By Appoinment Only
Following current guidace from leading goverment and health authorities and wishing to protect my customers and myself , I will be using the following procedure to repair your vacuum cleaners.
When collecting and returning machines, I will phone when I arrive at your property, you then place machine outside your door 2 metres from property. I will then pick up repair and return using the same procedure. Payment can be made by credit card over the phone before machine is returned.
If you want to drop off a machine please phone first and arrange a time. When dropping off machine leave it outside and let me know your there, please do not enter workshop. Thank You!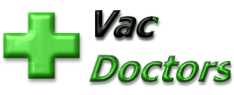 Vac Doctors of Milton Keynes